LYNCH STANDARD VALVE PACKAGES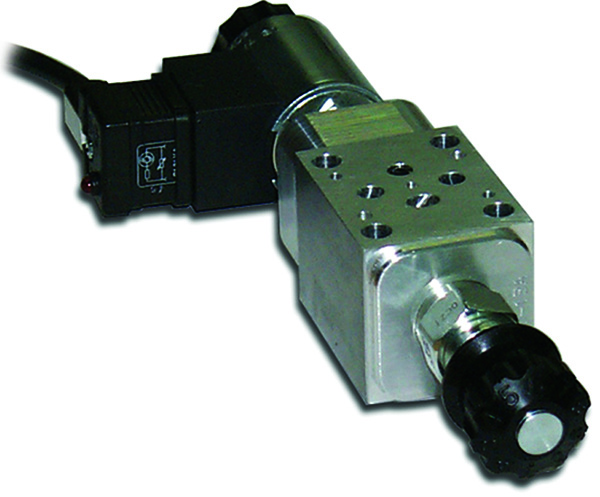 STANDARD SPECIFICATIONS
Standard Materials:
Aluminum or ductile iron with flow rates up to 120 GPM.
Solenoid Options:
Normally open or Normally closed.
Coils ranges:
Standard 24 VDC and 110 VAC. Optional 12 VDC to 230 VAC coils.
Connector Type:
Lighted DIN is standard, other types available as non-standard.
Standard Flow Control Option:
Needle valve, flow control with reverse free flow check, or pressure compensated flow control with standard screw adjustment.
Non-Standard Adjustment Options:
Hand knob "K", calibrated hand knob "H", tri-grip hand knob "Y" or fixed settings "X".
Seals:
Buna "N"(standard), Viton® or EPDM (dependant on configuration)
APPLICATIONS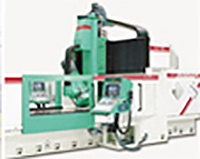 Machine tools
- Lynch's Two-Speed Valve enables the operation of machinery at multiple speeds. This compact, cost effective solution provides an effective approach to transitioning from high to low speeds.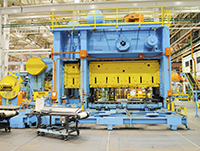 Presses
- Enabling rapid extension of the cylinder and a fine feed control in press applications in a compact format at a lower installed cost.
TWO SPEED VALVES
Contained in a small efficient package, the Lynch Two-Speed Valve is built to go from full speed to a slow controlled motion by simply energizing the solenoid. Commonly referred to as Rapid Advance and Feed Valves, Lynch's Two-Speed valves are pre-engineered hydraulic packages, which incorporate flow control and solenoid valves in one valve assembly in order to allow equipment to operate at multiple speeds. When properly applied these packages control multiple flows in a hydraulic system in order to limit the speed at which the equipment is operating. These valves are available in line mounted style or in ISO Modules with up to six different circuits: Meter In P, Meter Out T, Meter Out A or B, Meter In A or B. Actuators connected to Two-Speed valves can initially move fast or slow using either a normally open or normally closed solenoid valve respectively.
FEATURES AND BENEFITS
Compact, cost effective solution to multi-speed applications.
Rated from nominally 15 to 120 GPM and up to 5000 PSI.
Compensated or non-compensated flow controls available.
Uses standard D03-D10 valve interfaces.
Viton seals available as a non-standard option upon request.
BLOCK DIAGRAM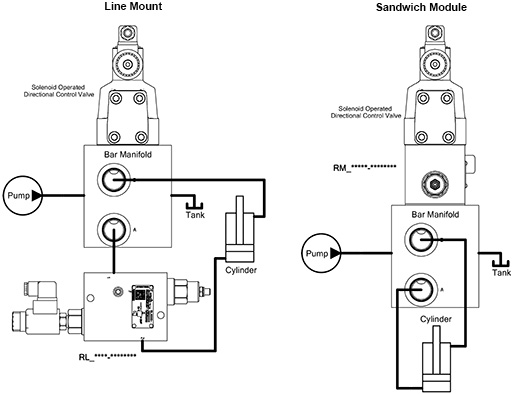 SITE MAP
PRODUCTS
PARTNERS